F ROM the time of my first acquaintance with the modern Lilac, I have been a devoted admirer. Compared with the original plant—the Common Lilac of the old-time gardens—these of to-day with their great variety of color, larger flowers that will in some cases cover a five dollar gold piece, greatly increased size of truss, are hardly to be mentioned in the same breath, except for the fact that they are all Lilacs. What vision it was that led the wonderful French nurseryman, Victor Lemoine, to grasp the latent possibilities of this magnificent flowering shrub! Ably assisted by his wife, as the old gentleman has himself told me, he worked for years in developing the Lilac into what we have to-day.
But to go to the beginning: the development of the Modern Lilac dates from 1843 when M. Libert-Daminont, a nurseryman of Liege, Belgium, obtained a Lilac with small double lilac-blue flowers, described by Charles Morren, a botanist of Liege, under the name of Syringa vulgaris fl. plena "Liberti," this plant, interesting as a curiosity, but without any ornamental value was also mentioned in the lists of other nurserymen of the day, under the name of Syringa vulgaris azurea plena. It would be difficult indeed to find it now, anywhere.
This was the variety that Victor Lemoine, perhaps the greatest hybridizer, and plant breeder the world has ever known, had the idea of crossing with the Single Lilacs in an effort to produce a race of ornamental Double Lilacs. Now the flowers of these plants are small. This work of crossing demands good eyesight which Mr. Lemoine did not then have, and so, he told me, he sought the aid of Madame and placed into her care the very delicate work of cross fertilization. This work, first started during the Franco-Prussian War, when Nancy was occupied by the Germans, solely as a diversion from the trials of the time, was carried on by Mme. Lemoine for many years under the direction of her husband.
Syringa azurea plena was most difficult to work on, the minute flowers being formed of many petals, nearly microscopic, without stamens, and with a pistil covered with the lobes of the interior petals, malformed and sterile. Yet this was the plant selected for the seed bearing. It was necessary to work from a step ladder on account of the size of the bush, uncovering a number of flowers to expose the pistil and then apply the chosen pollen to the flower when one was found in which the pistil was not too much malformed. The pollen was supplied from the handsomest varieties of Single Lilacs available; and Syringa oblata, a Chinese early flowering species, the flowers of which were often destroyed by the late frosts. Thus it will be seen that the plants finally attained were the achievement of patience and tedious work. Even so, the results were ever in doubt, and from more than one hundred flowers crossed, the first year produced only seven seeds. The following year thirty fertile seeds were gathered, and the work continued.
The first fruits of the work of Mr. and Madam .Lemoine were seen in 1876 when three bushes flowered. The first received the name of Syringa hybrida hyacinthiftora plena, and was a true hybrid between Syringa oblata and Syrmga azurea plena. The thyrses of this variety were quite well developed, the flowers small, a little separated, double, of a lilac-blue color and flowering fairly early. The foliage recalled that of Syringa oblata and took a purple autumn tint that rendered it attractive. This variety was put in commerce in 1878, and is not cultivated now; but a specimen can be seen in the Lilac collection of the Arnold Arboretum, Boston, Mass., where it flowers before any of the others. Its fragrance is very marked.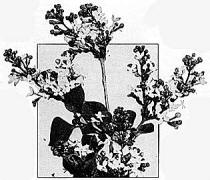 One of the progenitors of the modern Lilacs. Syringa oblata, which was used by Lemoine.
Syringa Lemoinei flowered for the first time in 1877, and was put in commerce in 1879; this was not a hybrid but simply a cross between Syringa azurea plena and another variety of Single Lilac; the flowers of this variety were double, of a good size and pure blue-lilac in color. From the same cross also resulted the varieties Revoncule and Rubella plena (1881) and Mathieu de Dombasle (188z)
The first Double Lilacs were crossed without much difficulty with Single Lilacs and gave after a few years a new line of seedlings. The following were placed in commerce—Alphonse Lavalle and Michel Buchner (1885): Maxime Cornu, President Grevy, Pyramidal and Lamark (1886); Tournefort, Comte Horace de Choiseul, Mme. Jules Finger and Senateur Volland (1887) ;Condorcet, Virginite, Leon Simon and La Tour d'Auvergne (1888); and Jean Bart and Emile Lemoine (1889). Most of these varieties, however, are not now in commerce having been replaced by better kinds.
As time progressed the younger Lemoine, Emile, gradually succeeded to the part his mother played in active hybridizing and began to fertilize the single varieties with the pollen of the double. This work was far more difficult and needed the steady hand and keener eyesight of youth, as with the single varieties it was necessary to open by hand the flowers while yet in bud, to remove the stamens and when ready apply the pollen from the chosen double flower, as otherwise the single varieties would have fertilized themselves naturally and interfered. with the cross.
In particular the fine single variety Marie Legraye was used as a parent, crossed with double varieties, and most of the finest double white Lilacs of to-day come from this cross.
The following Lilacs have been introduced by Mr. Lemoine and his son:
1890—Mme. Lemoine, President Carnot, Linne and Dr. Jussieu (double).
Claude de Lorraine, General Drouot and Mon. Lapage (single). 1891—Comtesse Horace de Choiseul, Belle de Nancy, and De Humboldt (double).
1892—Pierre Joigneaux and Mme. Abel Chatenay (double). 1893—La Mauve, Charles Baltet, and Souvenir de Louis Thibaut (double).
1894—Obtlisque, Mme. Casimir Perier, and Louis Henry (double).
1895—Dr. Maillot, Grand duc Constatin, Monument Carnot, and Doyen Keteleer (double).
1896—Rabelais, Boussingault, Francisque, Morel, Abel Carriere, and Charles Joly (double); Congo (single).
1897—Mme. i,eon Simon, Marechal de Bassompierre, Prince de Beauvau, and Guizot (double).
1898—Arthur William Paul, Dr. Masters, Marc Mitcheli, and Colbert (double); Toussaint-Louverture (single). 1899—Comte de Kerchove and Wm. Robinson (double); sCrampel, Negro, Volcan, and Othello (single).
1900—Georges Bellair, Edouard Andre, Maurice de Vilmorin, and President Viger (double).
1901—Le Printemps, President Loub ft, Dr. Troyanowsky. and Mme. de Miller (double).
1902—De Saussure, Jeanne d'Arc, Paul Hariot, and Viviand-Morel (double).
1903—Dame Blanche, Gaudichaud, and Miss Ellen Willmott (double); De Miribel, L'Oncle Tom, and Pasteur (single). 1904—Mireille, Deuil d'Emile Galle, Waldeck, Rousseau, Banquise, Taglioni, and Etoile de Mai (double); Reaumur and Christophe Colomb (single). —
1905—Charles Sargent, Duc de Massa, Rene Jarry Desloges, Desfontaines and Maximowicz (double); Montgolfier and Ednond Boissier (single).
1906—Siebold, Victor Lemoine, and Montaigne (double). 19o7—Jules Ferry, Leon Gambetta, Godron, and Planchon (double).
1908—Edmond About and Jules Simon (double).
19o9—Hippolyte Maringer, Mme. Antoine Buchner, and Olivier de Serres (double); Decaisne, Milton, and Tombouctou (single).
1910—Comte Adrien de Montebello, and Marechal Lannes (double); Cavour and Vestale (single).
1911—President Fallieres and Henri Martin (double); Gilbert, Danton, and Ronsard (single).
1913—Naudin, Thunberg, and President Poincare (double); Marceau, Laplace, Lavoisier, and Monge (single).
1915—Emile Gentil, Paul Thirion, Claude Bernard, Jean Mace, and Magellan (double); Diderot and Mont Blanc (single).
1916—Edith Cavell, double pure milk white, buds cream and sulphur; Julien Gerardin, double soft lilac; Saturnale, single bluish mauve; Vesuve, single claret purple, nearly red.
So much for what we have before us to-day, but the end is not yet for as Mr. Emile Lemoine informs us he has also produced some interesting hybrids between Syringa Giraldi, a new early flowering species from Western China and the Common Single and Double Lilacs. These hybrids are very ornamental and, valuable shrubs, they grow very fast, some of them making as much as five feet of new growth a year; flower a week or ten days before the other Lilacs and are both double and single. Those already in commerce are: Lamartine and Mirabeau (single), Berryer (Semi-double), and Vauban and Claude Bernard (double). What' does the future hold?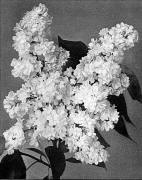 [click photo for larger image]
The present day perfection of development in the Lilac is fairly represented by Miss Ellen Willmott which has large branched thyrses of large double white flowers
ALTHOUGH the Modern Lilac has been given considerable attention in some places, yet it may be questioned whether the full merits of the modern improvements are really appreciated. People buy "Lilacs," and they get—just Lilacs. What a pity when there is such a selection of these improvements that, from a flowering standpoint, are so vastly superior. There is one point to be remembered—that is, in this country to be really successful, Lilacs should be had on their own roots, not grafted. It is common practice in the European nursery trade to graft Lilacs on Privet, with the result, all too often, that ultimately the planter has a fine collection of Privet, the Lilacs having succumbed to the borer. If, however, these plants are on their own roots, the attack of the borer simply results in the production of so many more suckers from the ground, and the glory is multiplied.
Lilacs may be planted in fall or spring. The Common Lilac starts growth very early in the season and is best handled, therefore, in early fall. To achieve the maximum of floral beauty, the Lilac needs pruning every year, otherwise, it has a tendency to grow to too great a height so that the flowers are not easily seen. Cut off all flower clusters as soon as blooming ceases, and it is a good thing also to remove suckers from the base, especially in the case of the Common Lilac. Remember that the Lilac flowers on the wood of the previous season, and therefore must not
be cut back in winter, nor, obviously, in spring. The only winter pruning that is permissible is the cutting out of weak, crowded or superfluous branches, but do not cut back. Overgrown bushes that are to be brought into control, should be cut back in the winter time in order to get it down where it is wanted. This, of course, sacrifices the flower for the season, but it induces strong breaks and well-formed bushes for the future. Do moderate pruning and disbudding just after the blooming period, and generally thin out and attend to the symmetry of the bush but be cautious over pruning of any sort. It is easy to do the wrong thing.
Propagation is by cuttings of the young wood in early summer. Placed in sand in a hotbed kept shaded, they will root freely in about two months. Layering can also be done in late summer, and of course, suckers, where such are developed, can be removed in spring with their roots, and if cut back will start readily.
Two well known public institutions have representative collections of Lilacs: the Arnold Arboretum, although it lacks some of the most modern varieties, and the Park System of the City of Rochester, New York.
As to planting, a common fault is overcrowding, not giving sufficient room. In the private collection of Prof. Sargent, Brookline, where the plants have been given ample space to develop, it can be seen that they require twenty to twenty-five feet, and yet we plant Lilacs three feet apart!