Farmers of Forty Centuries: or Traditional Agriculture in China, Korea and Japan. - F.H. King - 1911. I found it very interesting that many Asian farmers own and work several small pieces of land which may be several miles apart. This is intensive, sustainable agriculture proven.
[complete text - no photos]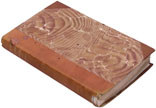 The Evolution of Horticulture in New England
Daniel Denison Slade - 1895. This book is very interesting for its use of the grammar and spelling of the times as shown in quotes from letters to and from notables. It is footnoted and can serve as a historical source and would be of interest to linguists. The account of the "Evolution of Horticulture" could have used more detail but still gives insight into the first European settlers' lives in the New World.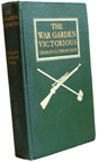 The War Garden Victorious - Charles Lathrop Pack - 1919. This book was a real eye-opener for me and shows how a grassroots movement can accomplish great things. The National War Garden Commission was not a government agency, but a private group which helped organize and popularize war gardens during World War I. The war gardens can serve as a model to us today of ways government, schools, corporations and individuals can work toward eliminating hunger.
Food Saving and Sharing
Telling How the Older Children of America May Help Save - from Famine - Their Comrades in Allied Lands Across the Sea.
Prepared under the direction of THE UNITED STATES FOOD ADMINISTRATION. - 1918

Victory Gardens Handbook of the Victory Garden Committee War Services, Pennsylvania State Council of Defense - April 1944
A Handbook on necessity, history, organization, planning, planting, cultivating and preserving food in the Victory Gardens of WWII. Can be used as a guidebook to promoting the new sustainable Garden movement.
Ministry of Agriculture Allotment and Garden Guides - 1945
A series of 12 leaflets published by the U.K. Ministry of Agriculture at its wartime base at the Berri Court Hotel in Lytham St. Annes, Lancashire, England "...to help you to get better results from your vegetable plot and your fruit garden." I now have all but the August 1945 leaflet. If you know where I can find It, please email me.
Dig for Victory Leaflet No. 1 - Cropping Plan referred to in above guides.
The Old and the New in Corn Culture - Article from the 1918 Yearbook of Agriculture. Interesting facts about corn and its significance in American history. Fascinating Hopi method of planting corn in arid region.
The Garden Magazine
Beginning with the May 1917 issue, articles about war gardening started to appear. In this issue President Wilson makes gardening a patriotic duty and a garden plan is included.