Ministry of Agriculture
Allotment & Garden Guides Index
---
The Allotment DVD
The delights of having an allotment. 15 programmes as seen on ITV. Suit new and established growers. Seasonal guide, top gardening tips, fascinating food facts and insights into what's really in those sheds!
THE ALLOTMENT SERIES was first shown on ITV 1 West

Allotments UK and other related allotment links
"O sweet September, they first breezes bring
The dry leaf's rustle and the squirrel's laughter
The cool fresh air whence health and vigour spring
And promise of exceeding joy hereafter."
LIKE the squirrel, the gardener who has done his job well can indulge in a satisfied smile in September, when he surveys the fruits of his labours and decides on those "O.S." fruits and vegetables that will represent his household at the church or chapel harvest festival, tokens of his appreciation of the world-old partnership between Providence and man.
Assuming the weather has not been too unkind and the pests not too troublesome, he can smile at the abundance that will be his squirrel's store for the late autumn and winter days that lie ahead. So it is natural that this issue of the Guide should be concerned mainly with harvesting and storing.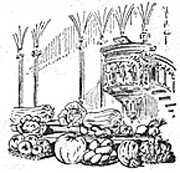 In view of the potato shortage this year, we should take extra care in harvesting and storing our own crops so as to avoid any risk of loss.
The tops should be cut down and removed about a fortnight before lifting time—burn them if there is the slightest suspicion of blight. Choose a fine day for lifting, and leave the tubers on the ground just long enough to dry—about four or five hours.