Click image for
facsimile of page 1
PLEASE KEEP—THIS GUIDE WILL NOT BE ISSUED IN 1946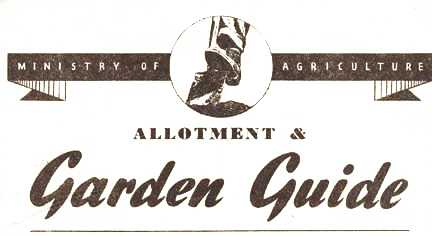 December 1945
Ministry of Agriculture
Allotment & Garden Guides Index
---
The Allotment DVD
The delights of having an allotment. 15 programmes as seen on ITV. Suit new and established growers. Seasonal guide, top gardening tips, fascinating food facts and insights into what's really in those sheds!
THE ALLOTMENT SERIES was first shown on ITV 1 West

Allotments UK and other related allotment links
Unlike Keat's "too happy tree," we gardeners are apt, in the words of another poet, to indulge in the pastime of "I remember." And no doubt on more than one drear December night we shall sit by the fire thinking of our successes and failures of the past season in the vegetable and fruit gardens. We shall no doubt do a bit of moralising, too—possibly make good resolutions about being more timely in our operations next year. And as it's the month traditionally associated with goodwill to all men, we may be thinking about Christmas presents, not only those we may perchance expect but those we will like to give. So as there's very little we may be able to do outdoors this time of year, save possibly getting on with digging any spare ground that's not frostbound, let us do a bit of fireside gardening, with a bit of looking back and perhaps a glance into the future.
Looking back
It has been said that of all dead things only the past smells sweet. How does the past "smell" to you as you look back on your gardening year? If you were successful, no doubt the past year was "sweet."
(But were there no crops that failed you?). If, however, your season was very mixed, you will no doubt be thinking of the weather or the pests or both.